Access Your Documents
Bill of Sale
Employment Contracts
LLC Operating Agreement
Loan Agreement
Promissory Note
Advance Directive
Last Will & Testament
Living Will
Power of Attorney
Small Estate Affidavit
Eviction Notices
Lease Agreements
Purchase Agreements
Rental Apps
Wisconsin Deed Forms
Create a high quality document online now!
Updated July 12, 2022
A Wisconsin deed is a document that helps to transfer and convey property from a grantor (the seller) to a grantee (the buyer). The form is a simple 2-page document that describes the two (2) parties along with the property and the purchase price (known as 'consideration'). The form must then signed, by the Grantor(s) only, in front of a Notary Public. The deed may then be brought to the County Register of Deeds along with the filing fee and the Real Estate Transfer Return .
Laws  –  Chapter 706. Conveyances of Real Property; Recording; Titles
Real Estate Transfer Return (eRETR) – This form must be filed along with any deed recorded in the State of Wisconsin ( See Instructions ).
Recording  ( W.S.A. 706.05 ) – Must be filed with the County Register of Deeds in the jurisdiction of the property being conveyed.
Signing  ( W.S.A. 706.06 ) – All signatures by the Grantor(s) must be accompanied by the acknowledgment of a notary public.
General Warranty – Provides guaranteed ownership of the property to the Buyer (the Grantee) with no defects on the title.
Quit Claim – Only transfers the implied ownership interest the Seller may have in the property. Does not guarantee title to the Buyer.
Special Warranty – Guarantees that the title does not have any blemishes or defects during the course of the Seller's ownership period.
Wisconsin Property Search
When completing a deed, the Legal Description needs to be written on the form. Therefore, you will need to pull the deed information from the County it is located. The numbers you want to obtain are the Tax Map/Lot Numbers, Parcel ID (if any), and the Deed Book and Page Numbers.
Step 1 – Go to This Webpage and select your county.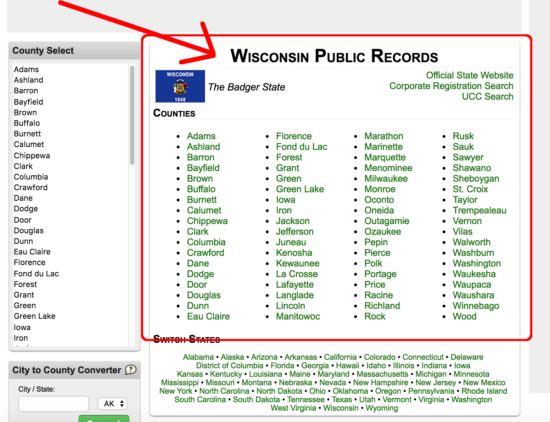 Step 2 – For this example we will use Milwaukee County  (click to launch the viewer on the map). When you go to your County or City Assessor you will want to perform a lookup by the Grantor's name. That will ensure they in fact own the property and be able to find the Legal Description.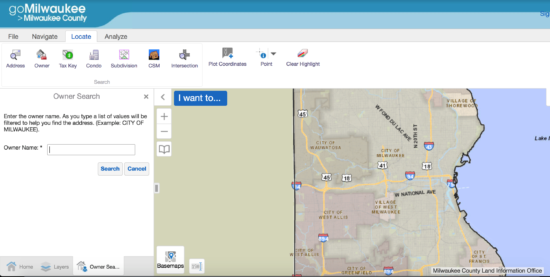 Step 3 – When you have found the property you can find the required information including the Parcel Number and the Legal Description. This can be written in the deed to satisfy the Recorder.
General Warranty Deed Form Quit Claim Deed Form Create Document
By using the website, you agree to our use of cookies to analyze website traffic and improve your experience on our website.
State of Wisconsin
Department of revenue, real estate transfer data.
​​​​​​​​​​​Under state law, a Real Estate Transfer Return (RETR) must be electronically filed (e-filed) with the County Register of Deeds when recording a conveyance of real estate.
RETR information may be used to determine a property's market value. The best indicator of market value is a transfer representing an arm's-length transaction.
Characteristics of an arm's-length sale:
Property must have been on the open market for a period of time typical of the turnover time for that property type
Both buyer and seller must be knowledgeable about the real estate market and the uses (present and potential) of the property
Must be a willing buyer and a willing seller, with neither compelled to act
Payment for the property must be in cash, or typical of normal financing and payment arrangements for the property type
Not all Real Estate Transfer Returns represents arm's-length sales:
Examples include: family sales, correction deeds and delinquent tax sales generally are not considered arm's-length transactions. However, with these transactions, you must still file a RETR.
Note: The Wisconsin Department of Revenue (DOR) is not responsible for the accuracy of the data contained on the RETR, and will not aid in its application or analysis
Search RETR data or Download Historical RETR Data
Use the Real Estate Transfer Search to locate specific RETRs
Advanced search options allow you to search by specific information including date range, sale price and location
Historical sales files list sales submitted by each county at the time of posting (middle of each month) and may not reflect all sales that occurred for the time period selected
Contact the county where the property is located to confirm the information
Historical files are large and zipped
Click the file you want to view
Open the file and save to your computer (make note of the file name and where you saved it)
File is saved as a Comma Separated Value (CSV) file
For historical data older than five years, contact the county register of deeds office where the property is located
Note: DOR is not available to provide technical assistance and support in opening compressed files.
Real Estate Transfer Data Fields for above files
Email: otas​@wisconsin.gov
Email:

[email protected]

​
March 4, 2023
Volume xiii, number 63.
March 04, 2023
NIOSH Announces Publication of Article on the Results of 2019 Survey... by: Lynn L. Bergeson and Carla N. Hutton
Beltway Buzz, March 3, 2023 by: James J. Plunkett
How to Donate Cryptocurrency and Other Digital Assets to Charity by: Andie Kramer
March 03, 2023
Visas for F and M Students Can Now Be Issued 365 Days Ahead of... by: Jacob A. Kanyusik and Rosa M. Corriveau
Good News for Employers: Good Faith Belief of Compliance Precludes... by: Kate Gold and Sehreen Ladak
Accepting Cryptocurrency and Digital Asset Donations: What Charities... by: Andie Kramer
Telehealth in a Post-PHE World by: Arushi Pandya and Esperance Becton
Europe: Is Eltif 2.0 a More Viable Structure for Long-Term Investment... by: Dr. Philipp Riedl
New Jersey Court Says Employee Discharged for Discipline Not Entitled... by: Michael Nacchio and Zachary V. Zagger
Expanding Regulatory Reach over Intermediaries That May Constitute... by: Peter Y. Malyshev and Maurine R. Bartlett
How to Value Digital Assets for Donation to Charity by: Andie Kramer
Supreme Court Clarifies the Meaning "Salary Basis" Under Federal... by: Brendan J. Lowd and Kathryn R. Droumbakis
OIRA Calls for Feedback on Recommendations to Encourage More... by: Lynn L. Bergeson and Carla N. Hutton
FTC's One-Two Punch on Data Tracking and Health Privacy by: Ryan P. Blaney
Justice and Commerce Departments Announce Creation of Disruptive... by: United States Department of Justice (DOJ)
Biden Executive Order 14091 Strengthens Equity for Federal Agencies by: Molly A. Lawrence and Rachael L. Lipinski
Justice Department Announces Application Form for Marijuana Pardon... by: United States Department of Justice (DOJ)
HERE IT IS: The Czar's HUGE Breakdown of the FCC NPRM is NOW... by: Eric J. Troutman
Telehealth Update: DEA Issues Long-Awaited Proposed Rule on... by: Ellen L. Janos and Cassandra L. Paolillo
CFPB Provides Guidance on Auto Finance Data Pilot by: Moorari Shah and A.J. S. Dhaliwal
Two Maui Men Sentenced for Racially Motivated Attack on White Man by: United States Department of Justice (DOJ)
US Executive Branch Update – March 3, 2023 by: Stacy A. Swanson
Stillbirth Baby Lawsuits by: Lawrence J. Buckfire
Backdating: What To Do … and Not To Do by: Eric Starr
BIS Charging Letter by: Dr. Nick Oberheiden
EPA Holds Third and Final TSCA Engineering Initiative Webinar by: Government Regulation
House Energy & Commerce Subcommittee Holds Hearing on U.S.... by: Hunton Andrews Kurth's Privacy and Cybersecurity
Personal Jurisdiction of Opt-In Plaintiffs Under the FLSA: Will the... by: Matt Abee and Debbie Whittle Durban
Recent CFPB Actions Focus on Protecting Military Families by: Moorari Shah and A.J. S. Dhaliwal
New and Updated Guidance on the Scope of the UK Plastic Packaging Tax by: Oliver Bristow
Rule 105 Revisited: SEC Actions Remind Private Fund Managers About... by: Scott Budlong and Scott L. Beal
The Supreme Court Grants Petition to Decide Constitutionality of CFPB... by: Rachel Rodman and Keith M. Gerver
Understanding Your Law Firm's Value Proposition by: Bill4Time
Spike in Migrants Crossing U.S.-Canada Border Raising Concerns by: Meredith K. Stewart
Bill to Amend the Gramm-Leach-Bliley Act Introduced to Congress by: Hunton Andrews Kurth's Privacy and Cybersecurity
Energy & Sustainability Washington Update — March 2023 by: R. Neal Martin
As EPA continues to move toward identifying PFAS as Hazardous... by: Jeffrey R. Porter
Is an OSHA Workplace Violence Standard for the Healthcare Industry on... by: Wayne E. Pinkstone and Phillip J. Jones
Yellen Calls on World Bank to Take Decisive Action on Climate Change by: Jason M. Halper and Jayshree Balakrishnan
To Volunteer or Not: The Role of Community Association Board Members by: John S. Prisco
The Future of Stablecoins, Crypto Staking and Custody of Digital... by: Anjali C. Das
White House Climate and Environmental Justice Screening Tool by: Molly A. Lawrence and Rachael L. Lipinski
"It Ain't Over 'Til It's Over" - Use Of A... by: Jennifer V. Boyer and John R. Sloan
PTO Introduces Trademark Decisions and Proceedings Search Tool by: Bernard P. Codd
FDA Issues Draft Guidance on Labeling of Plant-Based Milk Alternatives by: Lauren Petrin and Tracey T. Gonzalez
Government Wins $43 Million Verdict in False Claims Act Case by: D. Jacques Smith and Randall A. Brater
BETO Will Host March 23 Listening Session on Next Billion-Ton Report by: Lynn L. Bergeson and Carla N. Hutton
Growing Calls to Ban Chinese Owned TikTok App and Other Software Apps... by: Kathleen M. Porter
Advanced Planning Can Reduce Your Tax Burden When Buying Property or... by: Steven Hadjilogiou
DEA Proposes Limited Post-PHE Telemedicine Prescription of Controlled... by: Amanda Enyeart and Marshall E. Jackson, Jr.
So You're Green – Prove It or Be Prosecuted: ACCC Sweep Finds 57... by: Ayman Guirguis and Jessica C. Mandla
California Court of Appeal Addresses When Violations are "Willful" or... by: Leonora M. Schloss
What's new in Belgium on the employment front? Part 1 – training plans by: Marga Caproni
Nevada Legislature Mulls Creation Of Fund For Victims Of Securities... by: Keith Paul Bishop
OSHA Activates U and T Nonimmigrant Visas—'Law Enforcement Visas'—as... by: Leigh N. Ganchan and John Surma
BREAKING DOWN THE PRIVACY ACT REVIEW REPORT #3: Removal of The Small... by: Cameron Abbott and Rob Pulham
White House Releases National Cybersecurity Strategy by: Hunton Andrews Kurth's Privacy and Cybersecurity
FRB Releases LISCC Supervision Manual by: Daniel Meade
March 02, 2023
Utah Passes Innovative DAO Legislation by: Robert B. Lamb
Illinois High Court Rules "Per-Scan" Damages Can Be Awarded Under BIPA by: Anne-Marie D. Dao and David M. Poell
Grassley-Wyden Bill Aims to Fix Broken Tax Whistleblower Law by: Mary Jane Wilmoth
Lessons Learned From 2022's Trade Secret Verdicts by: Steven J Pearlman and Joseph C O'Keefe
Mass. AG Clamps Down on Local Solar and Battery Storage Moratoria by: Tess C. Edwards
Dirty Steel-Toe Boots, Episode 16: Investigations and the OSH Act's... by: Phillip B. Russell and Thomas R. Chibnall
DOE Issues FOA for Carbon Capture Large-Scale Pilots and Carbon... by: Frederick R. Eames
A Forward Look at IRA's Sweeping Impact on the EV Sector [PODCAST] by: Birgit Matthiesen and Samantha Overly
All Things Chemical: Product Stewardship, Supply Chain, and... by: Lynn L. Bergeson
US Executive Branch Update – March 2, 2023 by: Stacy A. Swanson
Gold Dome Report – Legislative Day 27 by: Stanley S. Jones, Jr. and Helen L. Sloat
Delaware Court of Chancery Establishes Duty of Oversight Extends to... by: Ari B. Lustig and Robert A. Penza
Are Highly Paid Daily Rate Workers Entitled to Overtime Under FLSA?... by: Shira R. Yoshor
It's Here – The New National Cybersecurity Strategy by: Kurt R. Erskine and Romaine C. Marshall
NLRB Places New Limitations on Confidentiality and Non-Disparagement... by: Alexander Pringle and Daniel R. Strader
Settlement Will Benefit Many Aging-Out Children in the Green Card... by: Tejas Shah
SEC Commissioner Discusses Reform to Regulation D by: David J. Lavan and David A. Lopez-Kurtz
Massachusetts AG Settles Enforcement Action Against Auto Lender by: Moorari Shah and A.J. S. Dhaliwal
Employers Beware: Non-Disparagement and Confidentiality Covenants in... by: Charlotte F. Franklin and Irving M. Geslewitz
Consultation Paper On Review of Corporate Governance Norms For A High... by: Anurag Shah and Parina Muchhala
California's War On The Fast-Food Industry Continues by: Anthony J Oncidi and Ariel N. Brotman
EPA Releases Proposed Approach for Considering Cumulative Risks under... by: TCSA Blog at Bergeson Campbell
Revised Colorado Privacy Act Rules Adopted for Review by Colorado AG by: Hunton Andrews Kurth's Privacy and Cybersecurity
H-2B Cap for Fiscal Year 2023 Is Met: A Supplemental Cap Increase... by: David J. Wagner
As COVID-19 Emergency Waivers End, DEA Proposes to Expand Tele-... by: Conor O. Duffy
How Employers Need to Prepare for the End of the COVID Public Health... by: Jacob Mattinson and Sarah G. Raaii
USPTO To Transition To Electronically Granted Patents In April 2023 by: Courtenay C. Brinckerhoff
Reductions in Force: Some High-Level Issues To Consider by: Brooke C. Bahlinger
CMS Streamlines Stark Law Self-Referral Disclosure Protocol (SRDP) by: Michael W. Paddock and Amy J. Dilcher
The Alice Eligibility Two-Step Dance Continues by: McDermott Will & Emery
FTC is "Talking Trash" and Zeroing-in on "Recyclable" Claims by: Phyllis H. Marcus
FTC Hosts Forum on Proposed Rule to Ban Noncompete Clauses by: Danielle Dillon and Marc N. Aspis
Free Speech Shines Bright, Illuminates Patent Owner's Right to Allege... by: Anisa Noorassa
California Supreme Court to Address Rounding of Employee Time by: John P. Zaimes and Natalie C. Kreeger
The Health AI Frontier: New Opportunities for Innovation Across the... by: Navid Fanaeian
FTC to Hold Workshop on "Recyclable" Claims by: Sheila A. Millar and Jean-Cyril Walker
EXPOSED: Does a New NCLC Ex Parte Filing Expose Their True Agenda to... by: Eric J. Troutman
Little Weight Given to Conclusory Expert Declaration That Repeats IPR... by: Amol Parikh
Department of Homeland Security Provides Information Related to EB-5... by: Seongbae Park
PTAB: Vidal Refocuses Guidance On Fintiv Factors And Discretionary... by: Steven D. Shipe
Aluminum Is Now A Hot Topic In Supply Chain And Trade by: Alexis B. Chandler and Ludmilla L. Kasulke
The 2023 AIEN Model Form JOA Placing ESG Issues at The Heart of Oil... by: Darren Spalding and Adam Blythe
BACKSLIDING: Latest BAD TCPA ATDS Case Allows Debt Collection Text... by: Eric J. Troutman
All the Benefits of a Reverse Triangular Merger, None of the IP... by: Benjamin N. Ediger, PhD
Public Company Accounting Oversight Board (PCAOB) Enforcement... by: Elaine M. Harwood and Alison M. Forman
Ninth Circuit Decision in Live Nation and Ticketmaster's Favor... by: Anna S. McLean and Michael A. Lundholm
Legislative Package Includes Bills to Advance Biofuels Research by: Lynn L. Bergeson and Carla N. Hutton
PTO to Begin Issuing Electronic Patent Grants by: Bernard P. Codd
OSHA to Expand the Use of Instance-by-Instance Penalties by: Megan Baroni
Locking Tik Tok? White House Requires Removal of TikTok App from... by: J. William Manuel and Anne R. Yuengert
FDA Withdraws Proposed Rule on General Principles for Food Standards... by: Food and Drug Law at Keller and Heckman
New FAQs Dramatically Expand Scope of California "Labor Contractor... by: Christopher T. Patrick and Jacklin Rad
Today is the Day – Don't Miss the Employer Deadline to Report to OSHA by: Carlos A. Ortiz
PTO Seeks Comments on Role of Artificial Intelligence in Inventorship by: Amol Parikh
DC Circuit to Disputes Ancillary to Patent Matters: "You Can't Sit... by: McDermott Will & Emery
Consumer Fraud PFAS Cases Continue To Rise by: John Gardella
OFCCP Rescinds Trump-Era Expansion of Religious Exemption to... by: Jack Blum
Mobile Arbeit und regionale Feiertage – was gilt? by: Dr. Gudrun Germakowski and Ilva Woeste
Can Nonprecedential Decisions Be Relied Upon? by: Keith Paul Bishop
Michigan PFAS Challenge Arguments Briefed For The Court by: John Gardella
China Again Top Originator of International Patent Cooperation Treaty... by: Aaron Wininger
Non-Willful Failure to File FBAR Under BSA Should Be Penalized on a... by: Jared E. Dwyer and Barbara T. Kaplan
March 01, 2023
Mandatory Arbitration Agreements Remain Valid in California by: Lindsay L. Ryan and William C. Vail
Antitrust Practitioners Expect Activity With Climate Issues by: Jacob H. Hupart
How Modern Manufacturing Plants Can Protect Against Ransomware,... by: Roland J. De Monte and Jackson E. Biesecker
FTC Will Host May 23, 2023, Workshop on Recyclable Claims and the... by: Lynn L. Bergeson and Carla N. Hutton
Appellate Court Affirmed An Order Denying A Beneficiary's Request For... by: David Fowler Johnson
An Overview of Why Class Action Privacy Lawsuits May Have Just Gotten... by: Adam B. Korn and Sebastian A. Navarro
Gold Dome Report – Legislative Day 26 (2023) by: Stanley S. Jones, Jr. and Helen L. Sloat
White House Reviewing Proposed Regulations on Reinstated Superfund... by: Bruce White
You Don't Need a Machine to Predict What the FTC Might Do About... by: James G. Gatto
Is It Compensable? Federally Recognized Holidays by: Keith E. Kopplin and Suzanne M. Watson
Employer Considerations for DOL's New AEWR Rule by: Kimberly A. Clarke and Kristiana M. Coutu
BIPA ALERT: Illinois Supreme Court Opens the Door to "Punitive,... by: Zachary J. Watters and Joseph A. Strubbe
President Biden to Nominate Julie Su as New Secretary of Labor by: Jeffrey W. Brecher and Justin R. Barnes
The European Unitary Patent: Why Retailers Should Care by: Steven L. Wood and Andrew D. Kasnevich
What's New in 5G - March 2023 by: Angela Y. Kung and Christen B'anca Glenn
New York City Employers Prepare for AI Bias Law [VIDEO] by: Nathaniel M. Glasser
Administration's WOTUS Rule Muddies Jurisdictional Waters by: Lisa M. Bruderly
GT's The Performance Review Episode 19: Is the Fight Over AB 51... by: Philip Person and Ryan Bykerk
5 Reasons Community Associations Need an Attorney That Specializes in... by: Melissa A. Volet
New York Proposes Regulatory Review and Approval of Material Health... by: Jean D. Krebs and Pamela Polevoy
New Federal M&A Broker Exemption by: Bryan K. Prosek and John R. Chadd
CMS Issues Long-Awaiting Medicare Advantage RADV Final Rule by: Christine M. Clements and John M. Tilton
Preventing the Use of Cryptocurrencies to Evade Sanctions by: Andrew Pimlott
New York Proposes Regulatory Overhaul for HealthCare Transactions... by: Danielle H. Tangorre and Leslie J. Levinson
Breaking the Link – New Developments on U.S. Licenses for Exports to... by: Reid Whitten and Curtis M. Dombek
Are You Ready for the UPC? Act Now to Prepare for its Opening on June... by: Dr. Henrik Holzapfel and Charles (Chuck) Larsen
New NLRB Decision Renders Previously Legal Severance Agreements... by: Robert K. Carrol and Darrell S. Gay
Litigation Setback for Employers Under Illinois Biometric Information... by: Daniel Campbell and David P. Saunders
Senate Committee Holds Hearing on Future of Low Carbon Transportation... by: Lynn L. Bergeson and Carla N. Hutton
North Carolina Senate Passes Compassionate Care Act – at Exactly 4:20... by: Rachel M. LaBruyere
States and Feds Signal Big Changes to Telehealth Prescribing by: Erin Sutton and Amy F. Lerman
Desperate Times, Desperate Measuring Cups – FTC Brings Enforcement... by: Dan Jasnow and Emily P. Caylor
Trending in Telehealth: February 20 – 26, 2023 by: Angela Irene Theodoropoulos and Amanda Enyeart
IRS Sets Deadline For Using 401(K) Plan Forfeitures by: Lori L. Shannon
How Generative AI Generates Legal Issues in the Games Industry by: James G. Gatto
When A High Rating Is Not Good by: Wes Scott and Christine Burke Worthen
SCOTUS Weighs In On Day Rate Pay by: Holly H. Williamson and J. Marshall Horton
Related Practices & Jurisdictions
Estates & Trusts
Real Estate
Family Law / Divorce / Custody
Printer-friendly
Email this Article
REPRINTS & PERMISSIONS
Use of Transfer on Death (TOD) Deeds Broadened Under New Statute
The Governor recently signed 2018 Wisconsin Act 332, which affects a method to transfer real property without going through a probate proceeding known as a transfer on death ("TOD") deed. The new law gives clients more options to transfer real property without having to go through a probate proceeding.
A TOD deed does not affect the current ownership of the property but essentially functions like a beneficiary designation would on a life insurance policy or retirement account – it designates who is to receive the property after the current owner's death or upon the last death of multiple owners. Under the previous law, a person could transfer certain interests in real property to a designated beneficiary and avoid a probate proceeding by designating a beneficiary on a TOD deed. The interests in real property that could be transferred on a TOD deed were interests that were (1) solely owned, (2) owned by spouses as survivorship marital property, or (3) owned by two or more persons as joint tenants. However, the prior law did not allow property held as tenants-in-common to be transferred using a TOD deed.
Owning property as joint tenants mean that the last surviving owner receives the entire property. Owning property as tenants-in-common means that at the death of each owner, the deceased owner has the ability to pass his or her interest in the property to his or her successors, often through a probate proceeding.
Under the new section 705.15(1)(m) of the Wisconsin Statutes, a person may designate a TOD beneficiary in any document, not solely in a deed. Further, the law provides that the interests in real property that may be transferred using a TOD document include an interest in real property owned as tenants-in-common and an interest in real property owned by a spouse as marital property without a right of survivorship.
Additionally, the new law requires that a TOD document and any recording fees must be submitted to the register of deeds in the county where the property is located prior to the death of the owner.
Lastly, the new law creates a statute of limitations for claims to recover real property transferred to a beneficiary using a TOD document. Under the bill, such a claim is barred unless a complaint is filed and a lis pendens (a notice of pending action) is filed or recorded within 120 days after the death of the sole owner or the last to die of the multiple owners who executed the TOD document.
One circumstance where the new law may be useful is for the family cottage. In that case, the parents pass the family cottage to children at their deaths. If the intent is for all the children and grandchildren to continue using the cottage (rather than surviving child taking the whole property), then the parents would want to pass the cottage to their children as tenants-in-common so that each child has an ability to pass his or her interest in the cottage to his or her children. Under the new law, each child can designate in a TOD document that his or her interest in the cottage passes to his or her family upon death. However, we often see that having multiple families and multiple generations owning property tends to become unwieldy. Common issues that arise include who is able to use the cottage during holidays? Who pays for repairs? What happens when an owner cannot or will not chip in his or her fair share? If the cottage will continue to stay in the family, usually transferring the property into a trust or LLC that sets out all of the rules of ownership will be a good solution. You should discuss the use of a TOD document with your attorney as part of your overall estate plan.
Latest Legal News & Analysis
Trending legal analysis, upcoming legal education events.
About this Author
Jacqueline Messler's practice includes estate planning, business succession planning, marital property agreements, guardianships, probate, and trust administration. Jackie regularly advises clients, particularly high net worth individuals, on all aspects of estate planning, including wills, revocable trusts, powers of attorney, irrevocable life insurance trusts, and generation-skipping transfer trusts. Jackie has worked with many clients in blended families. She has also assisted clients in special needs planning, including creating trusts under WisPact and Life...