Why Resource Planning is Essential for Small Business
Ask any business owner what's hardest: starting a company or keeping it in business?
Currently, only 48.5% of businesses are still open five years after starting up ( source ). Taking a company from startup to small business is a real challenge. And it takes more than just a strong marketing strategy, a steady cash flow or a high amount of funding. Efficient management and resource planning are just as important for small businesses survival.
Most companies start off on a small budget. That's why, often, small business owners' best strategy is to make the most of what they got. Resource management becomes very important and it all starts with strong resource planning.
What is resource planning?
Resource planning is a key part of any business or project management plan. In this phase, small business owners identify all the resources needed to deliver a project within a specific timeframe. In this respect, anything counts as a resource: staff members, roles and responsibilities for each member, equipment for doing the work.
Resource planning also includes a schedule with detailed information about what needs to be completed and when. A resource plan features: the amount of resource needed: how many developers or designers, for example, are needed schedule dates for using planned resources: when and for how long do small business owners need people assigned to tasks
Why is resource planning important
1. resource planning helps small businesses manage resources efficiently.
When starting a company, hiring a specialist for each specific task might be costly. That's why so many small business owners juggle a lot of different activities themselves. They often do accounting, customer support, sales and manage inventories, for instance.
Things don't necessarily get easier when they establish a team of 3-4 people. Small business owners need to make sure that their hires have enough tasks to work on so they don't get bored. At the same time, overloading staff members isn't a long term strategy either.
This is where resource planning is most useful.
Resource planning helps business owners make the most of their available resources, no matter how scarce these are. Whether it's one employee or five, a resource plan makes sure that everyone is using their time and availability efficiently.
This is even more important as small businesses scale up. As teams grow, business owners have to make sure that everyone has their share of work cut out for them. Also, it's essential to assign the right people to the right kind of tasks. Efficient resource planning allows business owners to match the right skills to the right tasks.
At the same time, a resource plan makes sure no one gets overworked.
2. Resource planning helps small businesses anticipate when they need to scale
A key aspect in resource planning is identifying the amount of resources needed to complete a project. This can be very helpful when the workload increases. As companies grow, so does the volume of work. Also, a lot of companies see an increase in activity during specific seasons – for example the holiday shopping season.
Doing extra house might not be a problem if it's a few days or a week. However, in the long run, it becomes both frustrating and tiring. With resource planning, small business owners avoid the uncomfortable situation of constantly overworking – either themselves or their staff members.
Resource planning helps small business owners anticipate when they need the extra hands. It also shows them how much they need to scale their team.
3. Resource planning helps small businesses understand their needs
Resource planning is also about identifying what resources you need to complete a project.
At some point, small business owners will need to bring on more people. This can be for help with specific tasks (e.g. development) or to handle the increasing workload. However, without a strong idea of what needs to be done, it is hard to know what role or position they need to look for.
Resource planning can show small business owners what tasks are left unassigned and where they need help. Maybe a designer needs a backend developer for a month to implement a new landing page, for example. Or the team is mostly backend engineers who need some help with front-end tasks.
Additionally, a resource plan will show the exact workload that a new position needs to fill. This may help small business owners figure if they need a permanent hire, contract or freelancer.
4. Resource planning helps small businesses keep things under control
A resource plan includes dates for when and for how long a resource is needed. This helps outline important deadlines for delivering work. It also matches tasks to resources, showing who needs should be working on what when.
By keeping track of deadlines and covering the entire workload, business owners can stay in control of things. There are fewer chances of missing or forgetting about important milestones. Resource planning can also pinpoint when there's a chance of going over budget and of exceeding set deadlines.
What's more, a visual resource plan will give small business owners a birdseye view of important milestones and deliveries. It also shows when tasks overlap, when they conflict and when small business owners need to step in.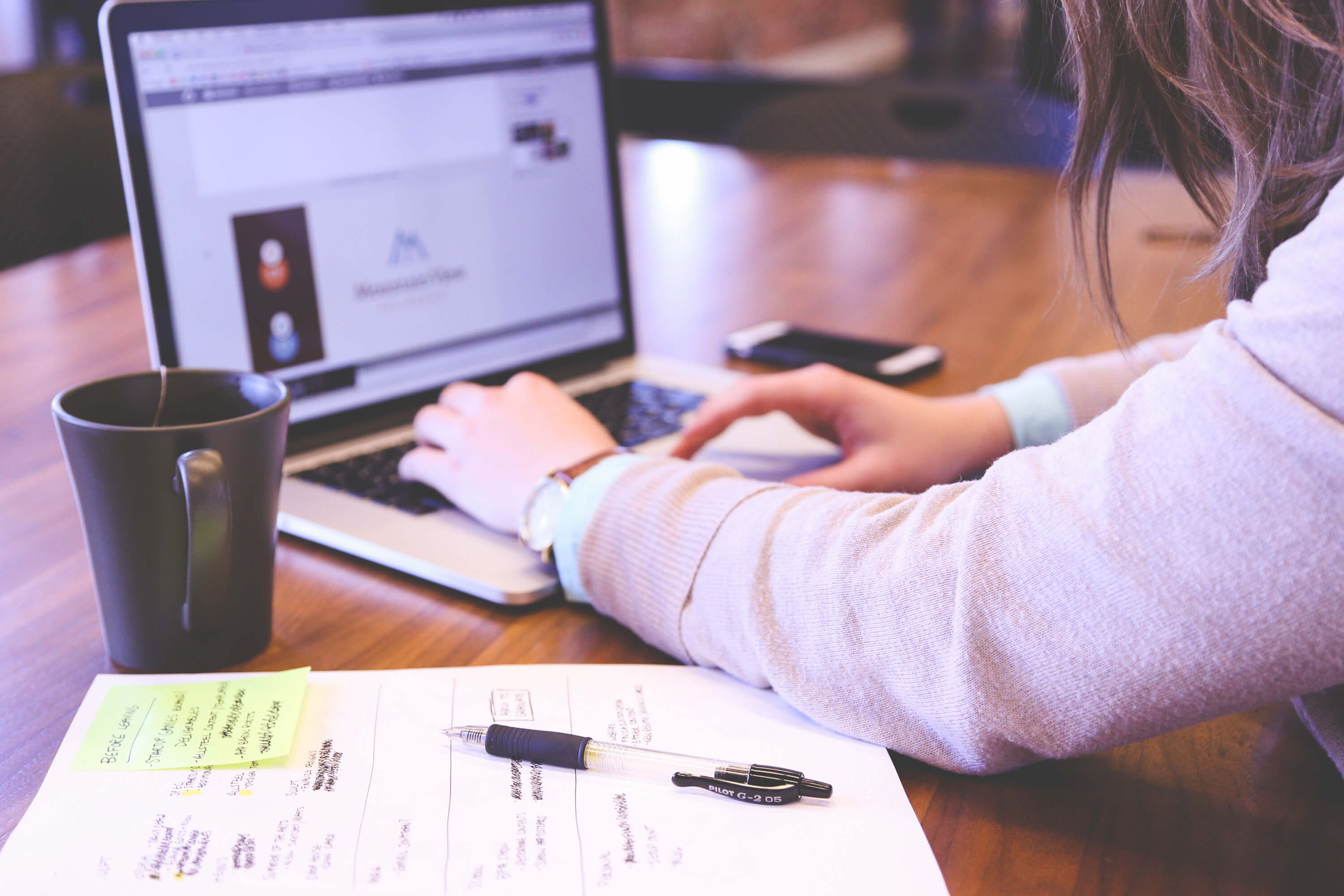 5. Resource planning helps small businesses keep staff or team members connected
A strong, connected team can accomplish a lot more than mere work colleagues. Building a team spirit, connecting people is also important for small business success. To this end, communication, transparency and trust are key.
Creating and sharing a resource plan for small business can help pave the way through. This way, everyone knows what their team member is working on, when they need to collaborate and when important deadlines are set. It can help create an atmosphere of transparency that allows team members to feel welcome.
At the same time, sharing the resource plan with all staff or team members can improve communication. What's more, if there are irregularities or mistakes, things can be discussed in order to avoid bigger problems down the road.
Resource planning tools for small business
Resource planning is much easier when you have the right tools. If you're just getting started with resource planning, spreadsheets might be a good solution. However, in order to keep track of everything, if you're meeting your time and budget requirements, dedicated resource planning software makes all the difference..
Toggl Plan, for instance, is a very good, easy to use resource planning tool . All you need to do is create a list of tasks that need to be completed and add your staff or team members. Next, assign tasks to your team via drag and drop, set their start and due date. To make everything clear, you can add details about tasks. Toggl Plan also features Gantt charts , which make it easier to keep an eye if things run on schedule.
If you're looking for more options, check out our article about top resource planning and management tools .
Join 30,000+ subscribers getting the best tips on productivity, work management, hiring and more!
We promise we won't spam you and you can unsubscribe anytime.
You might also like...
Related to Project Management
Project Tracker Apps that Will Make Your Next Project A Breeze
The 10 Best Project Planning Software Options
How To Use Excel For Project Management (+Free Templates)
Take a peek at our most popular categories:
Part  4  of  7  in the  Smart Business Planning  Series
Resource planning.
Resource planning usually involves creating a schedule that details information about those resources – what they're used for, when, and how. By identifying all the resources you need to deliver a project or product within a specific timeframe, you'll gain more control over your outgoings and cash flow.
What is resource planning?
The term 'resources' includes everything that might impact your ability to stay in business – equipment for manufacturing products or doing the work, machinery, raw materials, vehicles, staff members… even creativity can, in its own way, be considered a resource.
Whether you have five employees on your payroll or 5,000, a good resource plan ensures everyone in your business can use their time, efforts and assets efficiently. Good resource planning becomes even more important as businesses scale up. The right allocation of resources can make a huge difference to productivity and profitability. It will help to define:
What will you need – in equipment and people?
When will you need it – straight away or later as sales increase?
How much will it cost – to acquire, maintain, and run?
Resource planning helps you to focus
When you're setting up a business, you may be tempted to concentrate heavily on developing products first, or building strong relationships with customers and suppliers. Those things are very important. But you also need to think about the equipment you'll need to run the business, such as office furniture, vehicles or manufacturing equipment.
Many business owners try to economise on human resources at the outset, reducing the costs of having specialists on the payroll. Accounting, customer support, sales and inventory management might be easy to manage in the short term if you're running a small business, but, as an enterprise grows, you may need to delegate some of these processes – either to colleagues or by using software.
The process of moving from 'hands on' management of those resources to 'delegated responsibility' is much easier when there's a physical plan to guide your decisions. Setting out a plan in quarters, or by months, enables you to focus on which resources you'll need to acquire – physical or human – and when.
Managing human resources
It may seem strange to think of people as 'resources' at a spreadsheet level, but most of us are comfortable using the phrase 'human resources' in context. Good resource planning is about working out which human resources you need to complete a project or run a product line.
People are the most valuable resource in an organisation. Human resource planning is just as important as the management or planning of practical resources. There are important skill sets that should help you to manage your team, create your products and deliver your services. Going through the process of considering your team – it's sometimes known as resource mapping – should show you which tasks need to be done, which ones aren't accounted for, and which gaps need to be filled.
Then, at some point, as your business grows, you'll need to take on more people to help you handle the workload. Recruiting is a specialist skill in itself but plans for increasing your headcount over time can be drawn up quite simply. Human resource planning comes in three simple parts. You need people who can help you:
Handle the governance and administration of your business
Accomplish specific tasks in production and delivery
Provide professional support services
Usually, administration and governance resources can increase to reflect growth rather than enable growth. You might need the efforts of more people to make more products, but the impact of making more sales can often be managed after they happen. Professional human resources include external support, such as financial advisers, accountants and tax consultants; solicitors, payroll managers and recruitment or human resources advisers; and business development services, perhaps from your bank or business lender.
A clear understanding of your short, medium and long-term SMART business objectives should help you to settle on the type of support you need. The more detail you can put into your resource plan, the more confidence you can have in that decision-making process.
If, for example, you can plan a production line in detail over a 12-month period, you should be better placed to create the right job descriptions for employees – and decide at what point part-time employees should need to become full-time members of staff. At the same time, a detailed resource plan should include the allocation of finances to pay salaries, benefits and tax credits.
Managing physical resources
Depending on how your business runs, and what your operations involve, you'll have to make a decision on whether it's more appropriate to buy or lease some of your physical resources. In the main this covers production equipment, computers and phones, plant or machinery, and vehicles. Take time to get advice from professionals who have relevant experience with similar businesses.
Should you buy or lease your physical resources?
Usually, when you amortise the value of an asset over time, it works out less expensive to buy a physical resource than it does to lease it, but owned assets do depreciate over time. It is unlikely that you'll be able to reclaim the amount as a business expense.
If you lease an asset, you are in effect paying rent for the privilege of using it. Leasing means you may never own the asset outright (although some arrangements might let you buy the asset at the end of the agreement). However, leasing often gives you the advantage of being able to update physical resources and equipment without the expense of buying newer models, as technology evolves. Some leases may include maintenance or servicing costs which could mitigate unforeseen outlay.
If you choose hire purchase, you'll have the reassurance of owning the asset at the end of the payment term. The interest rate on hire purchase is usually lower than the rate applied to a bank loan or overdraft to buy the item outright. Capital allowances may also be claimed throughout the hire purchase contract.
It may be more appropriate to buy physical resources if:
You want complete control over the asset, when it's used and how it's maintained
The asset is a critical part of your production workflow – you use it all the time
There is a good second-hand market – for buying or selling the asset in question
You can maintain the asset easily, without the manufacturer's input
The supplier provides customer support and service at the level you need it
It may be more appropriate to lease or acquire physical resources on hire purchase if:
You don't want to use your cash reserves or carry a debt
You're unsure how long you'll need the asset and you want flexibility to trial its capabilities
The asset needs specialist support that you don't have in-house
The asset is likely to become obsolete and need replacing relatively quickly
Before you make a decision about the most appropriate way to acquire the resources you need, it makes sense to get informed views on the answers to key questions. Things like, how long will you need the asset for – and what role will it play as your production scales up? Will it be cost-effective to have in your inventory from day one, or will it take time to provide any kind of return on your investment? And how would this outlay impact your other financial priorities – is there another way of achieving the same outcome for your business without this asset?
When you're creating your first resource plan, it may be helpful to think about how long you need resources for. Will they be part of your business for the long term or will some resources be needed for a short period of time?
Try to keep track of resource projections against realistic timelines. These help you to gauge the impact on your cash flow and understand the implications of ownership. Physical assets need to be insured, and payments for equipment and vehicles can then appear in a budget or business plan. Good resource planning can also help you to pinpoint when or if there's a chance of going over budget.
Being prepared for change
Even a small change in your supply chain, the market, or your environment might have a big impact on your organisation and the equipment and teams you need to run your business. In-house resources can come under pressure from a surprising variety of external influences.
Money can be tight when you're starting out in business. In today's economy, it's important to budget as accurately as you can. As a business grows, the right management tools make it easier to manage resources efficiently. Ad-hoc 'tallies' of resources might increase the risk of errors, and of customer dissatisfaction due to lower quality and delays. With the right resources in place, and a detailed resource plan to underpin your project management, you'll be in a much better position to measure your progress commercially.
Top takeaways
Review your business's resource planning against cash flow regularly. Try to see the big picture.
Talk to colleagues about their views on what's needed. Sometimes insights from the shop floor can inform your purchasing more than an analysis of projected product lines. Keep a list of core suppliers to hand for all the resources you need. This could be manufacturers, distributors or human resources agencies.
Review your decision-making in line with your SMART business objectives. Look at the supplies, equipment and services you need in the short-term – don't plan too far ahead.
If you're able to set a reserve to one side, take advantage of sales when you see them – stocking up on everyday office and production supplies, such as stationery.
Pay suppliers on time. Good supplier relationships can reap dividends in the long run, and may even bring you favourable terms in the future.
Tools and templates
Property Resource Requirements
Other Resource Requirements 
Staffing Requirements
Disclaimer: 
Please note that these guides are provided for information purposes only and not as advice or recommendations. Before deciding to undertake any course of action you may wish to seek independent professional advice.
This device is too small
If you're on a Galaxy Fold, consider unfolding your phone or viewing it in full screen to best optimize your experience.
Ascent-logo
Resource Management 101: Benefits and Best Practices
by Maricel Rivera | Updated Aug. 5, 2022 - First published on May 18, 2022
Image source: Getty Images
A project without resources is a project that's going nowhere. By resources, we mean people, equipment, facilities, tools -- anything necessary to get a project from point A to point B.
If you're setting up a website for a newly launched business, for example, you need people and tools to get things done. You'll have to allocate funds for web hosting, a domain name, SEO apps, and other related widgets.
But a website isn't all a new business needs to create or amplify its online presence. There's also social media, email marketing , branding, online advertising, and making use of various other marketing channels .
For all of these different activities to go off without a hitch, or at least with manageable difficulty, you need to effectively manage your resources.
Overview: What is resource management?
Resource management is a broad management category. Resource management examples or types include:
Human resource management
Project resource management
Financial management
Infrastructure management
Inventory management
Facility management
Digital asset management
In this guide, our focus is on project resource management.
The primary objective of a resource management system is to have on hand the right resources at the right time.
Resources are essential ingredients to success, no matter the stage your project is in. Not having them -- or not having enough of them -- may affect the project's budget , schedule, scope , and chances of success.
Project resources can be:
Human: The people or human resources necessary to perform tasks.
Physical: Non-human resources such as equipment, facilities, materials, supplies, infrastructure, tools, etc.
Resources can also be:
Internal: Resources available within the organization and assigned by either a resource or functional manager.
External: Not available within the organization and must be obtained via a resource procurement process.
The resource management processes
Effective resource management involves the following six processes.
1. Plan resource management
An operating resource management plan summarizes how you intend to estimate, acquire, manage, and control the required human and physical resources for the project's various tasks and activities. It also provides insight into how much effort is necessary to manage resources.
2. Estimate activity resources
Estimating resources is assessing or appraising the nature and quantity of the resources you need. What skills should team members possess? What types of tools or equipment should you acquire or procure?
Once you figure out what and how many, determine resource availability. Some resources may have to be scheduled in advance, such as convention halls, training rooms, and even the subject matter experts to onboard as project consultants.
3. Acquire resources
Resource acquisition involves selecting and obtaining the resources your project requires as well as assigning them to the different project activities involved.
So, if your project needs developers adept in Java programming, how do you make sure the right person is assigned to your project at the right time? Do you have the resources in-house? If not, which avenues will you tap to get them?
As for equipment, infrastructure, or facilities, as a project manager, do you have the authority to choose a vendor? Or is your organization already in partnership with certain providers?
4. Develop the team
It's the project manager's duty to build, lead, and motivate the team. The goal is to grow team members' skills and competencies, improve team communication , and create an environment of trust conducive for team collaboration .
Team development is particularly important if team members come from various backgrounds, speak different languages, and possess diverse skill sets and experiences.
5. Manage the team
Team management includes tracking team performance, resolving issues and conflicts, managing changes in the team's composition (i.e., new people joining, team members leaving to do other projects, etc.), and providing feedback as needed.
6. Control resources
This process entails three things:
Ensuring the necessary resources are available and deployed as planned.
Tracking planned vs. actual resource utilization (i.e., monitoring expenses).
Making the appropriate adjustments to address resource surpluses or deficits.

These are the different resource management processes and the process groups in which they occur. Image source: Author
Each of the above resource management processes usually has to be done repeatedly throughout the project life cycle in response to changing resource needs and availability.
If a team member can't report for work because of an emergency, you'll have to find someone to pick up the slack.
If no one with the required skills or expertise is available, and the role is critical to keeping the project on schedule and within budget, a meeting with the change management board for a change request may be necessary.
Benefits of resource management
Why exactly should you manage resources? The short answer: Because there's much to lose if you don't.
1. Better planning and scheduling
Resource management lets you create a project schedule that revolves around the availability of critical resources.
If your project involves the use of special equipment, for example, and your team is authorized to use the equipment only on certain days, then activities involving that equipment should be scheduled on the days it's available.
2. Availability of necessary skills and resources
With a system that enables you to estimate, obtain, and manage third-party and organization resources, chances are good that the right people and tools are in place when and where you need them.
But if that's not the case because of circumstances beyond your control, your resource management plan should tell you which person or group to approach for help.
3. More efficient resource usage
Resource overutilization and underutilization both have negative consequences. Assign too much work to certain team members, and you run the risk of overworking them.
Burnout can be extremely demotivating. Or, if you book a venue that charges for services or facilities you don't need, you're wasting money better spent on other aspects of the project.
Resource management best practices
Now that we know what resource management is and why it's important, let's take a look at a few best practices for managing your resources.
1. Use resource management tools
A work breakdown structure divides large projects into digestible chunks, making it easier to identify, estimate, and assign resources to each task in your activity list.
For complex projects or matrix organizations that share resources across projects, a resource tool like the RACI matrix clarifies roles, duties, and responsibilities.
Project management software such as Mavenlink and monday.com come with resource planning tools for tracking, managing, and reporting resources, allowing you to make adjustments as necessary so your projects follow timeline requirements.
Not only that -- a project management software system also offers anytime, anywhere document storage capability, so you can upload critical resource documents that team members and key stakeholders can access on demand.
2. Create a proper plan
A project plan contains several ancillary plans, and the resource management plan is one of them. Other secondary plans are the financial plan, the communication plan, and the risk management plan.
A resource plan is a summary of the required project resources and how you intend to acquire and manage them. It includes a resource schedule and a contingency plan.
Note that your resource management plan should be reviewed and approved by people and entities that own or manage resources. This is one way to ensure you obtain the resources you need.
3. Regularly review resource usage and forecast
In most cases, resources are a project's biggest expense, so you want to make the best use of them. When you routinely review resource forecast and usage reports, you'll be better able to predict -- and, consequently, address -- resource problems that can affect your project's success.
Manage your resources more efficiently
Resource management is, without a doubt, a vital project management component. Done right, it keeps projects on budget, on time, and within scope. It allows teams to foresee problems before they happen and project managers to maintain control over their projects.
When you're ready to assign resources to your projects, check out our resource allocation guide.
Alert: highest cash back card we've seen now has 0% intro APR until 2024
If you're using the wrong credit or debit card, it could be costing you serious money. Our experts love this top pick , which features a 0% intro APR until 2024, an insane cash back rate of up to 5%, and all somehow for no annual fee. 
In fact, this card is so good that our experts even use it personally. Click here to read our full review for free and apply in just 2 minutes. 
Read our free review
Our Research Expert

Maricel Rivera is a software and small business expert writing for The Ascent at The Motley Fool.
We're firm believers in the Golden Rule, which is why editorial opinions are ours alone and have not been previously reviewed, approved, or endorsed by included advertisers. The Ascent does not cover all offers on the market. Editorial content from The Ascent is separate from The Motley Fool editorial content and is created by a different analyst team.
The Ascent is a Motley Fool service that rates and reviews essential products for your everyday money matters.
Copyright © 2018 - 2023 The Ascent. All rights reserved.
11 Best Resource Management Software for Small to Medium Businesses
Resource management is the process used by resource managers or companies to manage their resources to achieve organizational or project goals. Resources can be people, time, devices, and finances.
With proper resource management, you can efficiently manage the resources and deliver the project with reduced cost and within budget.
The resource management tool can help allocate the right resources to the right task or project to get the job done on budget and on time, and without major problems or escalation in the project.
What is the importance of Resource Management?
In resource management, one of the most important criteria for resource compliance is the correct allocation of resources. When employees become overutilized or underutilized, it causes tremendous burnout, which may cause a high attrition rate.
By integrating processes and technology into automation, resource management can be designed efficiently and effectively. If done right, managers can ideally dispose of people and resources on a budget. According to a study by PMI Pulse, Poor resource management can lose up to 11.4% of company resources.
During this global pandemic, Covid and the work from home culture are driving companies to adopt resource management tools to manage resources and execute projects within scope and timelines.
In short, resource planning is one of the essential criteria that must be met to fulfill commitments during project delivery. It helps with project planning, provides visibility of required resources and skills, helps move resources by utilization and capacity, and allows prioritizing activities to meet project deadlines.
How is resource management done?
Due to advances in technology, previous resource management methods have been phased out or are at least preferred in the current scenario.
Traditional calendars, Excel worksheets, Microsoft Access, Word documents were used to manage, assign and schedule resources in the past.
Traditional or any manual method of resource management would be time-consuming and may not yield expected results, especially in managing multiple projects and teams in different locations and the WFH (work from home) culture.
Today's resource management tools give better visibility of the projects or tasks they are working on, their availability, and schedules. Its real-time connectivity mechanism allows managers, employees, and stakeholders to stay updated and get a clear idea of ​​ongoing projects and projects in the pipeline that helps to make informed decisions and set milestones.
Some of the benefits of resource management tools are listed below:
Set expectations and follow to close
Increase flexibility in managing remote teams
Easy to schedule and plan actions with short meetings
Real-time tracking of employee work status
Availability and connectivity of team and manager as per their need arises
Micromanagement can be eliminated, leading to overall satisfaction
Why Small and Medium Enterprises (SMEs) need to adopt Resource Management Software (RMS)
Resources are an asset to any organization, regardless of size. If resources are allocated properly, there should be no escalation, disruption, breakdown, and most importantly, loss of revenue. RMS and other CRM tools will help companies achieve their business goals and stay competitive in today's competitive market.
First and foremost, cost, skill, and lack of visibility into implementation are the factors that hold SMEs to using RMS to manage their business operations. With the introduction of SaaS (Software-as-a-Service) based RMS and easy-to-use and simple platforms, the scenario has changed today.
The new feasibility of the subscription-based pricing of RMS also encourages SMEs to implement RMS for business efficiency.
RMS helps SMEs plan resources and assign tasks properly, increase transparency, enable automation, sustain digital transformation, be competitive, improve workflow, solve resource allocation problems, reduce the complexity of multiple projects, single point of accountability, high control, etc.
In the below section, we will see some of the industry's best resource management software beneficial for small and medium businesses.
Teamdeck is a widely used all-in-one RMS. The company claims its resource management applications are used by teams from North America, South America, Europe, Australia, the Middle and the Far East, and Africa.
The tool includes all the access options needed to manage resources such as planning, scheduling, timekeeping, vacation management, and more. Its simple calendar view allows you to perform the important tasks of tracking unallocated resources, assigning activities to them, and monitoring their schedule.
From revenue or billing of point, managers can calculate KPIs (Key Performance Indicators) and ROI (Return on Investment), and their adaptive reports help determine team commitment.
The software dashboard assists in forecasting future projects requirements based on projects in the pipeline.
Extended reporting such as budget or salary reports
Proper resource management, including hourly follow-ups and team vacations.
Management of resource leaves, including approval/rejection, Public holidays, resource absence, and reasons.
Control resource utilization by monitoring usage across different projects
In a nutshell, the entire teamwork can be planned and controlled with this software, and data-driven decisions can be made based on advanced reporting structures. It is based on a software subscription and cheapest in this category, starting at $0.9 per month, but at this price, access to the mobile and Teamdeck app is not provided.
Wrike software is part of the world-renowned virtualization and cloud company Citrix. It has extensive functionality, ensuring that resources and team managers stay structured throughout the project lifecycle.
The software creates visual projects through Kanban boards and Gantt charts and works together in a dispersed environment and multiple projects.
The dashboard segregates work into three sections: Tasks, Projects, and Folders. Folders are a hierarchical structure for organizing tasks in projects. Each project is tasked with a specific framework. The project manager can allocate the particular tasks to individual resources with data and due dates.
The software has built-in templates that help maximize resource and project productivity in several ways, including creating product roadmaps, visibility of incoming projects, effective communication plans, breaking complex projects into easy-to-implement phases, etc.
Project automation and risk estimation
Provides 360-degree visibility of end activities
Tailor-made tools for every team and every industry
Powerful tools like voice commands and smart replies
Wrike platform allows 400+ integrations such as Salesforce , various CRM tools , Slack, Microsoft Teams, and many others that will not stop or hinder the successful implementation of commitments. The software is subscription-based, and its price starts at $ 9.8 user/month. It has a 14 day trial period as well.
this should go to #3
Smartsheet makes you a pro at resource management with a birds-eye view of your organization's routine activities.
Its powerful time-tracking allows tracing to the minute level to make the most out of your workforce. The People section permits role-based access and can help manage full-timers and contractors.
Besides, you can check each project overview and have the figures indicating any under or over-utilization of the resources.
Additionally, Smartsheet supports 100 undo-redo scheduling operations in an active browser session.
With its project templates, one can simultaneously update or import multiple projects.
Ultimately, the time, expense, budget , and utilization reports make it easy to analyze the overall performance and improve for future projects accordingly.
Finally, you have everything and more to experience firsthand with a no-credit card, 14-day free trial.
Forecast platform is an award-winning software. It has won many titles from the world's leading G2 evaluation platform for best project management , resource management, task management , and many others.
It is a complete project management software that helps ensure the final execution of activities and absorption of the capacity of all resources. Its other modules like project management, team collaboration, time management, business intelligence, and AI work automation can easily be integrated with its resource management platform.
One of its uniqueness is, it is one of the fastest go-live software that helps teams from SMB to implement it faster and start delivering. It has a higher user adoption rate than any other software in this category.
Faster time tracking of resources based on artificial intelligence suggestions
Provides a real-time view of the utilization and capacity of all resources
Adjust workload to avoid problems
Automatically calculates resource usage to understand better the ​​time spent on use.
Forecast software helps resource or project managers plan and adjust activities to address bottlenecks and set standards to meet deadlines. The price starts at $29/seat/month for a minimum of 10 seats. This software is available for a 14-day trial version.
Activecollab
Activecollab is another easy-to-use software that handles all phases of project management, including work management, team collaboration, time and resource management, customer management, and profitability.
Managers or directors can use this software to plan project activities and manage resources from inception to completion.
It's an easy environment to build effective communication and collaboration with your team, other managers, and customers. It is free for small projects with a limit of 3 users.
Automated task planning
Import projects from other apps and integration Zapier, Slack, Webhooks
Tasklist and Kanban view
Cloud storage integration
A simple platform for assessing project status, time spent on resources, and business profitability helping to ensure commitments are within budget. The price starts at $7.5 for three users. You can test this software for free for 14 days before using it in your work environment.
Float was explicitly developed for resource management, scheduling, and capacity planning. It helps create and assign tasks in seconds, add project phases and deadlines, assign resources and manage team capacity.
According to the company, it is used in various industries, including agencies, consulting firms, architectural firms, IT firms, and others.
The platform enables the integration of existing enterprise workflows for project management, scheduling, slack updates, and more. Apart from resource capacity visualization and project reports, this software can also manage complex project requirements.
This platform provides resource forecasts showing project estimates versus actuals.
A pre-populated built-in timesheet helps resources get the job done with ease.
Flexibility in resource planning for managers and to log time for resources from anywhere
Personal data protection backed by GDPR and SOC2 compliance
Float is one of the most popular resource management platforms in this category. Easy to use and easy to implement, starting at $6 a month. There is also a 30 day trial period.
Saviom is an advanced resource management software with custom configuration options that can be tweaked according to project requirements. The software is said to help reduce resource costs by 10 to 30% and increase resource utilization by 10 to 20%.
One of its uniqueness is that the platform predicts full transparency of resources, including requirements, unpaid resources, over-and underutilization, capacity planning using real-time multi-dimensional analytics.
It is a comprehensive resource management platform that helps SMEs predict resource requirements in advance based on supply and demand analysis.
The software helps you quickly identify and allocate the right resources on time, based on opportunities, locations, areas of interest, etc.
Understand project finances such as costs, revenues, profit margins,
Optimize unbilled resources to improve resource utilization
It helps identify gaps between resource matrix-like actual and forecast
Intelligent business dashboard for analysis and reporting
If you are looking for end-to-end resource management software for engineering, accounting, IT, construction, consulting, Saviom is your best choice. It helps with resource planning, capacity planning, reporting, and analysis, as well as integration with other workflow platforms . Prices are available upon request for a quote.
Process is software for work and resource management. It is an easy-to-use software to create multiple workflows, assign different resources, and track progress.
One of the keys to workflow management is document organization, and this software provides a simple interface for creating, organizing, and sharing documents across teams.
The drag-and-drop interface allows managers to create and assign tasks to teams in minutes and track progress and receive notifications via dashboards. One of its uniqueness is that you can create tasks based on conditions that are met, such as: if / then.
Workflow creation based on approval matrix, either single or multi-stage
Ability to integrate more than 1000 applications
Automatically schedule and assign workflows and update your other apps
Integrated forms for automatic data collection from other apps
It is a complete team collaboration and workflow management software with multiple features such as task automation, embedded scheduled workflows, and other automation modules that make it easy to create, assign and track workflows and resources. The software can be used for free for 14 days with costs starting at US$25 per month/user.
Instagantt is a Gantt chart platform for project management. The Gantt chart is a bar chart method that can be used to plan, schedule, and track projects of any size.
Apart from being a bar graph platform, it also has various built-in features to help manage tasks, teams, and budgets and make projects a success.
It is a complete project management software that helps plan project deadlines, establish dependencies and baselines, allocate resources, and perform teamwork .
Its workload function ensures that the resource is not overloaded or underused, creating a balanced team and workload.
Faster Gantt charts with intuitive platform
Interactive dashboard to visualize deadlines, progress, and resources for each project
Easy Asana project integration
If you are looking for an award-winning resource and project management software based on the Gantt chart platform, this software is enough. This advanced Gantt chart solution is available at affordable prices, starting at $5/month. You can even try the trial version 7 days before buying.
Mavenlink is an award-winning software for dynamic resource optimization. It was named 1st for resource management, project management, and work management by G2 Grids in 2021.
It is used to deploy teams in real-time based on business scenarios with different needs. The software allows you to see the impact on productivity and profits when adjustments are made at the resource level.
It has a uniqueness of forecasting resources needed for upcoming projects. It also helps to analyze the requirements and profitability of ongoing projects.
This software has everything you need to manage resources in real-time and meet ever-increasing expectations.
Designed to demonstrate continuous improvement with real-time response
Defining areas for sustainable development
Help balance resource competencies based on project demand
Assessing multiple plans concurrently
Mavenlink has won numerous awards. It is not only an advanced resource management software but also provides a platform for comprehensive project and task management with forecasting of future resource requirements. Prices are available when you request a quote.
Hubplanner offers a complete solution with several key functions, such as resource management, task planning, timekeeping, and project planning in one dashboard, which is easy to implement and use.
Its simple dashboard offers complete transparency of the entire team's schedule across projects and events. The reporting structure has been developed with enterprise-level design in mind, which provides comprehensive indicators to track usage.
It has a separate planning module for scheduling that can be integrated into resource management. Its uniqueness is that the manager can plan the project budget, feed billing rates and calculate project expenditure.
Easy drag-and-drop schedule for project teams
It can monitor the implementation of individual resources or projects
It can show real-time analytics of all your projects and resources
Resource leaves and vacation, request and approval workflow
This software can be used for free for 60 days. If you're looking for an end-to-end resource management activity, the hub planner will get the job done. Its price starts at $7 per resource/month.
Resource management is one of the most challenging tasks in any phase of project management , but with the right tools and software, it can become much easier.
Almost all resource management tools discussed above are award-winning, have nearly the same functionality, and are SaaS-based with slight differences in features. SMBs can test these tools and then reach an agreement before finalizing a purchase.
Interested in getting a virtual assistant? Take a look at virtual assistants for your business from these platforms.
Create a KPI dashboard using these tools.

Select products to compare
Choose first product to compare, select category to review, choose the category, sign in to see all reviews and comparisons. it's free.
By clicking Sign In with Social Media, you agree to let PAT RESEARCH store, use and/or disclose your Social Media profile and email address in accordance with the PAT RESEARCH Privacy Policy and agree to the Terms of Use .

What is Why Small Businesses Need Enterprise Resource Planning Software
User Reviews
LEAVE A DETAILED REVIEW
Why Small Businesses Need Enterprise Resource Planning Software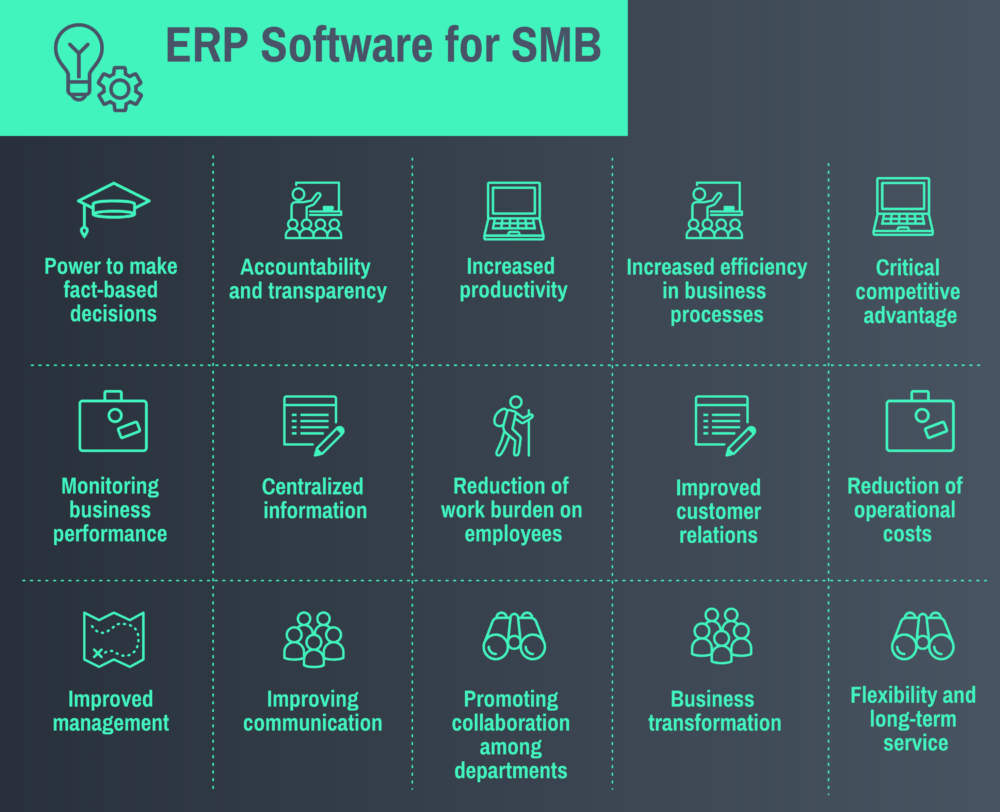 Enterprise Resource Planning (ERP) is a system that integrates the fundamental processes necessary to run a firm, such as manufacturing, human resource, finance, and supply chain, into a single system. ERP solutions offer efficiency, analytics, and visibility in all aspects of the business. Modern ERP systems leverage new technologies to facilitate the flow of information in real time across all departments. This allows the enterprises to manage performance and make informed and timely decisions.
ERP has for a long time been regarded as a necessity for corporates, but small businesses can as well reap numerous benefits from using ERP solutions. Small businesses need to be faster and sharper than the competition, which is a sufficient reason to implement ERP solutions.
There are other scenarios that necessitate small businesses to implement ERP solutions so as to improve service delivery. Examples of such scenarios are when the business is: relying on guesswork in sales forecast; struggling to monitor orders and relying heavily on spreadsheets; having trouble in determining the status of warehouse inventory, and so on.
An ERP solution features a centralized database, which ensures that all departments have access to accurate information regarding the business. It also automates the core processes of the business, helping small business owners to fast-track reporting, regulatory compliance and risk management.
There are ERP systems that are specially designed for midsize companies and small businesses. You can record all the data in the system, helping in the management of the business in terms of CRM, purchasing, accounting, and supply chain management. With an integrated platform, the company can improve visibility and cash flow while reducing inventory costs. Automation of manual processes affords staff time to concentrate on business development and sales rather than administrative duties.
However, each small business requires an ERP system that is compatible with its unique business needs, customer base, and competitive profiles. Therefore, businesses need to invest in the most effective solution – one that matches with their needs, manageable and which fits the type of industry.
There are factors to consider in order to achieve this including ease of use, customization, host platform (on-premise or cloud), support service, security measures, upgrade frequency, and the total ownership cost. The right ERP solution can provide numerous benefits to small businesses, some of which are mentioned in the following section.
You may like to read: Top ERP Software , Free, Open Source ERP Software , Top ERP Software for SMB , Top Cloud ERP Software, ERP Software for Large Business .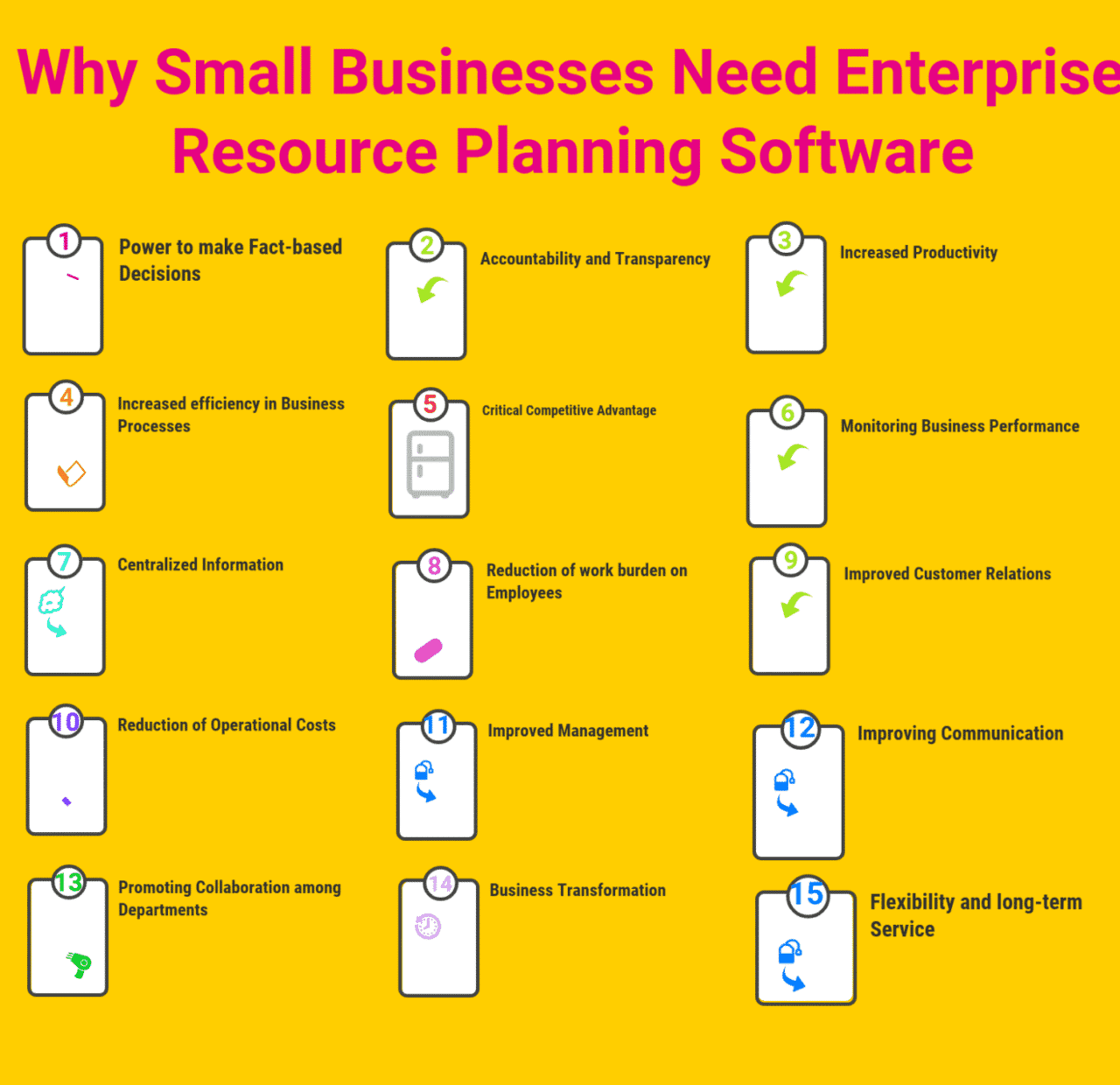 Reasons Why Small Businesses Need Enterprise Resource Planning Software
Power to make fact-based decisions
ERP systems contribute to the availability of consistent data, thereby improving the quality and speed of decision- making. The management team can quickly identify any potential production challenges that may affect productivity levels or delivery times.
Financial controllers can quickly evaluate orders and stock levels, and monitor budgets in order to boost financial planning. The management can make effective decisions on resource allocation and investments as well as quick responses to business opportunities.
Accountability and transparency
Instead of each department having an independent database, an ERP system provides a centralized database where all-important information from all departments can be shared and accessed by everyone. Apart from helping reduce errors and increasing accuracy and access to data, this also promotes accountability and allows information to flow transparently throughout the organization.
With an ERP system, production departments can effectively manage stock levels depending on the number of orders and delivery schedules. By streamlining business processes, employees can focus their efforts on more demanding tasks, meaning more work will be accomplished, which translates to increased productivity.
Increased efficiency in business processes
ERP solutions help in automation of tedious and routine tasks, which improves efficiency in business processes. This means there will be increased clarity of tasks, which will help to reduce or eliminate employees' inefficiencies and mistakes.
Critical competitive advantage
Small businesses can obtain a competitive advantage by embracing new technologies. ERP is one of those technologies that a small business can implement to increase chances of success in a highly competitive market.
This is because an ERP solution can help businesses to: optimize all available resources of the business in line with competitive strategies; provide agility in product and service differentiation; reduce delivery times; promote customer service and customer retention. These capabilities make ERP a strategic tool and an effective source of competitive advantage.
Monitoring business performance
ERP software updates information in real time. It is therefore easy for small business owners to check the performance of different areas in the business process and identify the ones that are underperforming. Once a problem has been detected, measures can be taken to deal with it so as to improve overall business performance.
Multiple data centers lead to disorganization of information. ERP ensures that all the information from different departments and processes are integrated into a single database.
It makes it possible to have data from various departments, including accounting, sales, inventory and distribution, in a single database. This reduces logistical nightmares when accessing data and saves a lot of time in retrieving and utilizing the data.
Reduction of work burden on employees
ERP reduces the burden of work on employees, such as having to record information on multiple platforms, which make employees comfortable and happy. When employees are happy, they will be more willing to put in extra effort for the success of the business.
Improved customer relations
A small business without the infrastructure to handle customer-related tasks can lead to an influx of pending orders, requests, and so on, which can lead to loss of both existing and potential customers.
However, implementing an ERP system can make it easy to answer queries or complaints from customers by making information to be readily available. It will aid in the efficient handling of customer orders and requests as well, which will definitely improve customer relations. In addition, ERP systems make it possible to monitor customer behavior and in determining their recurrent needs, and areas that need improvement for better customer service.
Reduction of operational costs
An ERP system provides an opportunity to access real-time and actual data regarding daily operations helping the business to optimize business processes and strategies while targeting to reduce both administrative and operational costs.
Modern ERP ensures that the distributor has 97% probability of delivering shipment on time, making it a preferred tool for distributors. It also eliminates costs emanating from spreadsheets in which data has been erroneously entered, as well as from errors caused by delay or misinformation.
The integrated system gives managers an overview of the business in one place enabling them to plan and make decisions. When all processes in all business departments are integrated and streamlined, managers can concentrate on planning tasks, controlling spending, and be looking for opportunities to grow the business. With the system, it is easy for management to monitor the performance of different departments and make the appropriate decisions.
Communication breakdown can compromise decision-making and even lead to errors that can bring enormous losses for a business. It is easy to maintain effective communication when employees are in a single locality; however, this becomes hard as the company grows and more employees are hired.
When information does not flow seamlessly between departments, key information may be missed or ignored leading to losses. ERP software ensures a smooth flow of data across all departments and, at the same time, keeps everyone informed about the business activities.
Promoting collaboration among departments
ERP software provides various departments of a small business an opportunity to access similar important information at the same time. This ensures that every department has access to the right and relevant information, boosting collaboration among departments and reducing delays caused by inter-department logistics.
Implementation of an ERP system can help in the transformation of the business, with growth challenges through streamlining processes like production planning and order processing and reduction of duplication of tasks. ERP equips employees with strong business tools enabling them to contribute more to the business.
Flexibility and long-term service
There are business systems which do not offer the same value within five years of implementation. The good thing with an ERP system is that once you invest in one, you do not need to purchase another system as years go by or as the business grows. Most ERP systems scale with your small business and provide the flexibility to integrate with existing and future complementary systems.
As highlighted above, there are many ways that a small business can benefit from implementing an ERP system. ERP solutions can provide small businesses with such benefits as improved information visibility, optimized business processes, effective communication, and productivity improvement. Once a small business has determined that these benefits are crucial for its growth, it should not delay in implementing an ERP system. Although money, time and effort will be needed in the implementation of such a solution, the cost savings and improved performance brought about by implementing the right ERP will outweigh the total of the short-term expenses.
Why Small Businesses Need ERP Software?
Small Business requires an ERP system that is compatible with its unique business needs, customer base, and competitive profiles and it helps to power to make fact-based decisions, accountability and transparency, increased productivity, increased efficiency in business processes, critical competitive advantage, monitoring business performance and for centralized information.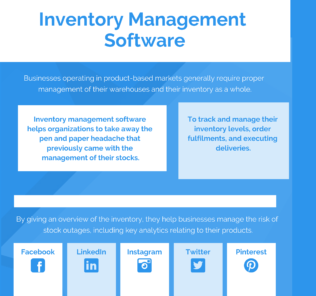 Thank you ! Check your inbox now to confirm your subscription.
PAT RESEARCH is a B2B discovery platform which provides Best Practices, Buying Guides, Reviews, Ratings, Comparison, Research, Commentary, and Analysis for Enterprise Software and Services. We provide Best Practices, PAT Index™ enabled product reviews and user review comparisons to help IT decision makers such as CEO's, CIO's, Directors, and Executives to identify technologies, software, service and strategies.
Resource Portfolio Management
What-If Scenario Planning
Integrations for Resource Management
Strategy Execution
Strategic Portfolio Management
Adaptive Project Management
Resource Management Capabilities: Tempus Resource
HR Workforce Agility
Audit Resource Management
Tempus Insight+
Portfolio Kanban
Program & Project Management
Project Financial Management
Business Intelligence Project Management Reporting
Project Management Spreadsheets
Resource Management
Resource Forecasting Tools and Techniques
Resource Management Request Workflows
Skills & Competency Management
Scenario Planning
Project Scheduling
Microsoft Project Add-In
Project Intake
Case Studies
Infographics
Press Releases
Whitepapers
Help Center
In the News
Resource Management for Small Business Success
March 15, 2018 | by greg bailey.
While massive corporations and tiny start-ups may have many differences in budget, reputation and internal structure, they do have something in common. They both, regardless of size, must plan to complete their projects consistently and efficiently. Most businesses function on the strength of their projects . In fact, almost everything that an organization does is based on carrying out tasks relating to various projects. For a business to succeed, its processes must be aligned with project goals. That's why resource management  for large organizations is just as crucial as resource management for small business.
Small Business, Big Details
"Business", conceptually, runs in the same way regardless of the size of the company. They also more or less need the same types of resources in business . Business resources definition , in this context, refers to both consumable (such as budgets) and renewable (such as human workers and machinery) . It could be argued, however, the difference between size comes down to consequences. For instance, small companies often experience company has a narrower margin for error when it comes to completing projects than their multinational counterparts. If you were to miss a project deadline as a small business it could potentially derail a client relationship, cost you revenue that you had budgeted for, halt your development or even lead to the company shutting down (certainly a 'worst-case' scenario). If the same project deadline is missed by a more established, larger company their size could potentially support the loss in revenue, while their professional reputation could prevent the client from leaving, etc. and still be around to do a better job next time.
If you are part of a small business you'll understand that even the smallest changes can have a big effect on your organization, from hiring practices to how you pass work around the office. Take for example, a company of eight employees who have developed a specific training for getting certain tasks done. Add in more resources and suddenly you have new voices, experiences and new styles of working. But a standardization of processes must be in place for this to be a positive change. If not, previously successful processes could be unintentionally upended, which might negatively affect productivity.
Resource Management For Small Business
Nowhere is standardization and efficient processes more important than when working on projects for your clients. As a small business, each project means a lot—for your reputation, the morale of your team and, of course, the bottom line. In fact, making sure your projects are completed efficiently, on time and to budget can be the difference between growing the company and standing still.  
Standardizing processes
Growth is an important idea here. As your business grows, the right management tool becomes extremely handy. Successfully managing clients and projects relies on having the right systems in place to keep track of your processes. Ad-hoc processes that may have worked when you first began your business will soon fall short when the work becomes more complex, the number of projects that must be juggled grows, and the deadlines become less flexible.
Understand your resource competence
Instead, you need a solution that can focus on your project resources, giving your project leaders better visibility over the allocation of their resources, and to understand what effect specific resource decisions will have on the outcome of your projects.
Improve collaboration
Deploying a sophisticated resource management business resource management technology helps members of your team stay on track. By having better visibility over your resources, your project teams can share better information with each other, which helps project tasks to be completed more efficiently and effectively. Cloud-based resource management software, such as Tempus Resource, can be accessed from both your desk and your mobile device, meaning that no matter where you are you can get access to the important stuff when you need to, enhancing collaboration even further.
Better habits for the future
A lot of smaller teams use Excel for their business resource management . With a fewer number of resources and projects it's a functional tool. However, this is setting bad habits for the future. By putting in place a sophisticated, yet easy-to-use, resource management solution you will give your team a better structure that will scale as you grow.
Budget better
Often for small businesses, money can be tight. That's why it's important you can budget correctly. But budgeting for projects is difficult if you don't have the means to see what is around the corner. With the right business resource management tools, you can better measure project progress and expected outcomes, which allows for better budgeting.
Streamline delivery
Both small and large businesses use project management as a tool to improve service delivery. They are able to streamline delivery and shorten development cycles by providing an intelligence-based management process. Identify and focus on battling potential problems before they happen or when they are small scale so as not to have major impact in the future. Continuous delivery provides a more intelligent approach to managing shortened cycles. This allows for faster updates with fewer glitches and greater buy-in.  The result is improved customer satisfaction. Therefore effective small business resource management can be just as effective as an organization-wide customer satisfaction project.
Resource Management in Business, No Matter Your Size
Whether your organization has 10 employees or 10,000, resource portfolio management software, like Tempus Resource, can help you achieve your goals, improve your products and services grow your company.  Project and service delivery can be improved by optimizing allocation of resources.
Tempus Resource uses 'What-If' simulations to model project data and help you make risk-free, data-driven decisions over your projects. This is something that is of benefit to a start-up with a small project team as much as it is to a large project management office (PMO) with several project teams across multiple borders.  Our strategic portfolio management software solutions were developed around information technology portfolio management (IT resource management) then applied to engineering resource management.  Now utilized across all businesses, the same benefits have been found from enterprise through small business.  
With Tempus Resource you can ensure your business has what it needs to manage its projects properly, making better, more informed decisions that will help drive business growth.
For more information on business resource planning for small business and the benefits of a tool like Tempus Resource, get in touch  today.
Subscribe to our Blog
Be the first to know when we post new content!
Ready to get started?
Related resources:, gartner critical capabilities: reporting and analytics.
An essential component to any organization's success is monitoring performance and business…
Using Strategic Workforce Planning to Avoid Layoffs
Alphabet, Microsoft, and Spotify have become the latest tech companies to announce…
Gartner Critical Capabilities: Project and Work Effort Management
Project management encompasses both the planning stages and managing the work to…
Gartner Critical Capabilities: Integration
As many businesses continue their digital transformation, more data is being accessed…
ProSymmetry LLC
2000 Auburn Drive, Suite 460
Beachwood, OH 44122
© 2023 ProSymmetry. All Rights Reserved
Search Search Please fill out this field.
Building Your Business
Becoming an Owner
Business Plans
Resource Planning For Your Business Plan
Identifying the resources you need to grow your business, why is resource planning important, how to start resource planning, the bottom line, frequently asked questions (faqs).
Maskot / Getty Images
A business plan helps you organize your goals and growth plans for your business. Identifying business resources you'll be starting your business with already, and accounting for the resources you'll need to acquire after launching the business, is a crucial step in business planning.
Key Takeaways
A business plan helps you organize your goals and growth plans for your business.
Resource planning help you account for resources you have, plan for resources you need and ways to optimize their use
You can plan for physical, people and technical resources in your business plan
Resource planning help you account for resources you have, plan for resources you need and ways to optimize their use. Among other things, even the most simple business plans are designed to walk you through the activity of describing every source and the exact dollar amount of your initial equity capital, as well as account for the equipment necessary to produce your products or services.
It can be difficult to accurately estimate your future resource needs, which is why this startup mistake is one of the most frequent contributors to young businesses running out of cash early on.
A very important section in your business plan is about the finances of your business, and that includes how much you hope to spend on resources you need to acquire and maintenance expenses on assets you own. Your plans for obtaining the necessary personnel, equipment, and cash to meet your capital expenses will need to be detailed throughout your business plan.
You may need financing from a bank or investors or will invest your personal savings in the business, and resource planning will come in handy for that too.
Resource allocation plans are what your potential investors and business partners are going to need to see before jumping on board with your new company.
There are different types of resources and you need to budget and plan for them accordingly. In describing each of the resources that you have and need for your business to reach profitability, position each of them in terms of the value it will bring to the company, both in the near term and down the road.
To figure out exactly which resources your business is going to need, and account for those in your business planning process, ask yourself these two crucial questions:
Does starting and growing your business require having staff on hand? If your business relies upon output from people other than yourself and your business partners, you're going to need to allocate resources for hiring staff at fair market rates. 
What type of equipment or fixed assets will your business need to get going? If your business is dependent upon purchasing or leasing equipment or other fixed assets like retail and office space, these are major considerations as you plan out your resource allocation.
Physical Assets
Depending on the nature of your business, you may have varying need for physical assets. However, in all likelihood you'd need some sort of office furniture and definitely some computers. Physical assets could also include office space, storefronts, manufacturing facilities and equipment necessary for your business. For example, if you own a baked good business, baking equipment like mixers and ovens would be physical assets you'd need to plan for.
Personnel and People
There are different types of people that can be a part of your business. People you hire, for example, can be employees or independent contractors and there are different cost implications for your business depending on whether you hire the former or the latter.
Investing in skills and capacities for people in your business is also an important part of resource planning.
How about mentors, key advisors, supplier connections, and other intangible resources for your business? These types of relationships whose value to your business can be immense, also need to be accounted for within your business plan as they'll have a very large impact on the future growth of your company.
Think of the massively positive effect your company would experience if you had a friend or family member that was a decision-maker at a large company who'd be your perfect first customer. It would undoubtedly be one of your key strategies for driving the early growth of your company. So, as you're planning your resource allocation, you'd naturally be spending in areas that make your young business more appealing to the target customers you want to serve.
Technical Resources
It is a good time to evaluate your technical resources and requirements as well. Some businesses rely more heavily on technology or intellectual property than others. Technology-dependent companies will need a strong IT network to get started. If building your own website won't be any trouble, then that's one major cost you'll be able to avoid as you get started with your company. Otherwise, you may need to allocate for web design, development, and other website-related expenses.
Regardless of your situation, don't be intimidated by the upfront costs of starting a business. Instead, keep in mind that in today's age, your product or service will only be as good as the technology that supports it, and if you buy or build low-grade gear, you'll probably have to replace it in a few years anyway.
Clearly, there are a lot of different expenses to take into account as you allocate the resources for your new business. However, forcing yourself to go through this activity in extreme detail while building your business plan will save you a lot of headaches and potential failures in the future.
What are assets and resources in a business plan?
Resources can be anything that helps you operate or run your business. Assets are a type of resources that help you achieve you business. Assets can be cash, or physical assets such as equipment or intangible assets such as the brand of your business. In a business plan, you talk about the resources you have and the resources you need to acquire to help your business grow. You also account for your assets on your balance sheet. A strong balance sheet presented in your business plan can be appealing to potential investors.
Which components of a business plan are most useful to attract investors?
Each section of a business plan is important to potential investors. An executive summary gives your investors an elevator pitch to your business. Company description explains to them how your business is solving a market need, while market analysis shows investors you understand your industry and competition. Sections on organization, product details and marketing plans dig deeper into your vision for your business and how its organized. And the financial information component helps them see if you idea is worth putting their money into.
Small Business Administration. " Write your business plan ."
Planview. " Resource Planning: How To Build a Resource Plan ."
By clicking "Accept All Cookies", you agree to the storing of cookies on your device to enhance site navigation, analyze site usage, and assist in our marketing efforts.
A Starter Guide to ERP for Small Business
Top Reasons that Small Businesses Choose to Implement ERP Software
Read time: 6.5 min.
You likely started your small business with one key motivation in mind: to be your own boss. If you're reading this, chances are you made that happen – so first, congratulations.
Running your own business comes with as many perks as there are challenges. The volume of tasks is immense – from operations, payroll, accounting, and employee engagement – to sales, marketing, strategy and more.
With the excitement of growth comes another set of challenges. The ones we see the most, in our business, are technology issues. Under the umbrella of "technology issues" there are usually a myriad of concerns that can be summed up as two main problems:
Your business software no longer fully supports your business (if it ever really did in the first place)
You have a mix of software that are disconnected, and don't "talk" to each other
This is what typically sets small businesses on the path that eventually leads to enterprise resource planning (ERP) software. Below are more specific motivations beyond ERP for small business.
Top reasons that small businesses choose to implement ERP software include*:
Reducing frustration and improving efficiencies
Improving business performance for KPIs
Supporting growth
Gaining advantage over competition through technology
Saving costs
*Mint Jutras 2016 Enterprise Solution Study
What is ERP for small business?
Enterprise resource planning is business management software that enables organizations to have one system to manage business processes. This concept sounds simple, but often isn't, and can be game-changing – especially for small business.
An ERP software solution is a suite of modules that all operate in one database that serves as a master source of enterprise information . ERP is accounting and operations oriented, with modules such as inventory management , project management, human resources, supply chain management and more. Other key business functionalities included are sales, marketing, manufacturing, inventory, e-commerce. Read more in: What is Enterprise Resource Planning?
Your small business' priorities are likely not the same as a larger business, and as such, your ERP software should reflect that. Some typical small business problems that ERP software can help solve include:
Manual processes
Little to no visibility into business data
Disparate systems
Lack of reporting and analytics
An ERP solution provides business insight, a suite of tools that provide reporting and real-time analytics, the ability to automate manual processes and is simple and easy to use. But not all ERP software is like the other – choosing the best solution for your business is a crucial step in the ERP implementation process.
Comparing ERP for Small Business
While ERP software can benefit businesses of all sizes, it's not one-size-fits-all. Some platforms are built to better perform for larger enterprises, while others are best suited for smaller companies or startups. A smaller business likely requires a platform that is optimized to aid growth, while providing fewer employees who perform multiple duties more business intelligence and organization. What are the best ERP options for small business? Below are some of the top vendors.
Acumatica: Their Small Business Edition is a cloud-based ERP designed specifically for small businesses that have basic accounting needs and require fewer than 10 users. It operates as a bridge from accounting programs to a full ERP solution with the potential to grow.
Oracle NetSuite: A full-service solution, NetSuite provides complete visibility into business data at a price point smaller businesses can afford. NetSuite will scale with you as a long-term solution as your business grows. NetSuite is largely considered the world's number one cloud ERP – chosen by more than 33,000+ organizations.
Sage: This vendor offers multiple products that cater to the needs of small businesses – taking control of finances and automating processes that reduce time spent on administrative tasks.
How much is ERP for small business?
Many ERP systems are optimized to best perform for specific company sizes. This is also true regarding price, since smaller companies cannot afford the same software that larger businesses do. However, that doesn't mean small companies and startups are losing out on functionality – they simply don't need the same number of applications that a large organization requires. ERP software pricing can depend on a few different factors including:
Number of users
Software footprint – the modules implemented
Integrations
As discussed, smaller businesses don't require the same level of functionality compared to a large business. There is no getting around the fact that ERP is an investment of time and money – ERP software for small businesses are less expensive but can still be a significant chunk of the budget. To soften the blow, below are some facts and figures regarding ROI on ERP for small business.
Small businesses that implement ERP software are able to reduce operating costs by up to 20%. Other cost saving areas include admin costs and inventory costs.
Small businesses that implement ERP software achieve 100% ROI within 27 months, on average
Cloud ERP lowers upfront cost (compared to traditional on-premise ERP) – as subscriptions are paid monthly. Cloud software also allows you to account for the cost as an operating expense (versus a capital expense for on-premise hardware).
NetSuite Small Business Pricing
As an Oracle partner, our company is most familiar with NetSuite for small business. An option for startups and small businesses is the NetSuite SuiteSuccess Starter Edition. Companies that select this package receive the full system designed for the specific needs of a smaller enterprise. An option with SuiteSuccess Starter Edition is the NetSuite Professional Services Activation, a no-cost activation in which NetSuite consultants will convert your business data, configure your system, take you through a process walkthrough, conduct training and assist with go-live support. A value of about $70,000, the complementary activation gets your business online with NetSuite quickly and affordably.
Terillium also offers discounts on NetSuite implementation consulting for small businesses and start-ups. Request more info if you'd like to learn more.
ERP Software Selection Process
Once you've determined how ERP can help your small business, now you need to choose which software is the best solution. There are some key things to keep in mind when evaluating ERP for your business. Below are the top 10 – you can read the full info on ERP selection criteria here.
The functional fit for your organization – does the software functionality meet the needs of your business?
Industry experience – is the software used in your industry, does it have helpful industry-specific features?
ERP vendor viability – how long has the product been around? How many organizations are in the customer base? What is their financial viability?
ERP implementation project considerations – when is the right time to take on this project? Who will be the internal and external (often ERP consultants) leaders of the project?
Technology – does the software include key features like end-user reporting, good user experience, data security, ability to integrate with other software?
Risk – make a plan and consider key areas to avoid risk.
Scalability – consider how the software suite fits with your business strategy today, and down the road.
References – talk with other companies who have implemented the ERP. Both the software vendor and implementation partner should be able to provide references.
Post go live – what is the on-going support and training plan?
ERP Software Consulting
However, before making a final decision in the software selection process, consider what you need from an implementation partner. To make the project a success, you'll need the right team on your side. An ERP implementation isn't just an IT project – it's a business project because it will have an effect across your company as a whole.
Begin by consulting employees from all departments that will use the new system. Ask questions such as:
What do you need the software to do in order to make your job easier or more effective?
How many users in this department will use the software?
What job positions will use the software?
Once you have a better idea of what to expect regarding who will be involved in the project, select your in-house team. These should be your A-team employees that you trust to deliver a successful project. Once you have your team lined up, consider your needs for a consulting partner. Check out this resource to learn more about ERP Software Consulting . Below are important aspects to consider.
When to engage with an ERP consulting firm? It's never too early, and the right partner can help you navigate the selection process.
What should I expect from an ERP consulting team?
What are average rates for ERP consultants?
How does a technology consulting partner help ensure a successful ERP project?
Still Not Sure Where to Start?
After doing the research, you may still be unsure what ERP software is best for your company. This is where a business technology assessment comes in. At Terillium, we offer an assessment in which our team will come in and evaluate your existing technology and business goals. This will help you build a roadmap that can be used to assist in the ERP selection process.
During an assessment we review:
Your business goals and how your current processes help or hold them back
Your current technology
Any manual processes that could potentially be automated
Reporting and analytics
Recommendations from our team and a roadmap to move forward